Selling a 1967 Jaguar XKE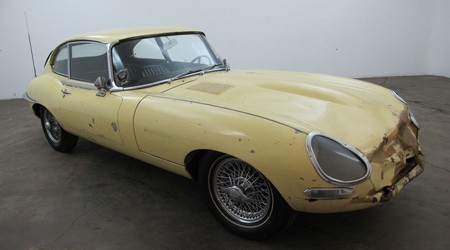 The Jaguars from 1967 to 1968, which bridged the gap between the Series 1 and Series 2 cars, were unofficially known as the "Series 1 ½" models. While these cars were relatively similar to the previous models in appearance, strict federal regulations for safety and emissions required changes to the performance of the Jaguar. Mechanically, twin Zenith-Stromberg carburetors were fitted with a hot intake tube that ran off the exhaust manifold. This change – while reducing the Jaguar XKE's horsepower – meant emissions standards were met and the car could continue to be sold in the American market. Often called the "federalized" cars, the 1967 Jaguar XKE can be recognized by its 4.2-litre engine fitted with carburetors, and the use of new cam covers with raised fins. There were several changes that took place inside the car as well, most dealing with safety. For example, the toggle switches were replaced with rocker switches and a collapsible steering column was implemented. Sadly to many purists, the 1967 also saw the end of the famous Jaguar starter button, which was replaced by a traditional start key.
1967 Jaguar XKE Seller's Guide
Whether you have the 1967 Jaguar XKE Roadster, Fixed Head Coupe, or Fixed Head Coupe 2+2, there is a collectors market out there not only among Jaguar enthusiasts, but also among classic car collectors as a whole. The team at AlexManos.com, a California classic car dealership based in Los Angeles, has put together a few Seller's Tips to help you as you prepare for the sale of you classic. First, it is important to come to terms with the reason you are selling your car. This may sound inconsequential, but it can be the difference between a smooth and successful transaction and one you regret. Secondly, prepare your car for sale. Whether this is a barn find or a mint-condition example, quality photographs and complete documentation can help facilitate the transaction and can be especially helpful in transactions taking place across the country. Additionally, be prepared to allow potential buyers to inspect the car for rust, mechanical soundness and completeness. Remember when you were buying your classic? These are items that will likely be addressed by all buyers and are just a few of the Seller's Tips offered by Alex and his team.

Learn More
1967 Jaguar XKE
Model Types:
Discover Other Classic Jaguar Cars
Contact Us:
Phone: 877-912-0007
Fax: 310-494-9398
Please Call Any Time / Year Round / 365 Days
And Tell Us About Your Auto!
Want to learn more? The team at AlexManos.com is always on the lookout for classics of all makes, models and conditions. When you're ready to explore your selling options and would like to see if your car fits into their collection, contact them today! They look forward to learning more about your 1967 Jaguar XKE and to helping you find its new home.
[sociable/]