Buying or Selling a Delorean?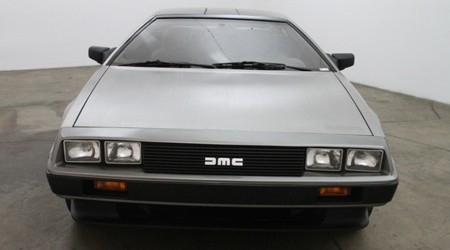 Founded in 1975, Delorean automotive is known for the stainless steel Delorean DMC-12 sports car and their turbulent history. The Delorean car is particularly famous for its starring in the Back to the Future movie trilogy, where it was transformed into a time machine. The model was the only car made by the manufacturer and was introduced in 1976, and produced from 1981 to 1983. With a 0-to-60 mph acceleration in about 10 seconds, the Delorean DMC-12 was not the most powerful model on the market at the time. Compared to other better-equipped vehicles, the price of the model was very high at the time, but the car was still popular. Thanks to its stainless steel body panels, the car was both attractive and immune to corrosion, but it also made painting the body difficult. Another interesting design feature of the Delorean was the gull-wing doors.
Delorean Seller's Guide
If you own a Delorean DMC-12 and looking to sell it, Alex Manos and his team would love to take a look. The team values the special history and specifications of the model and would make a top dollar offer on the spot, should your model fit their inventory. With their many years of experience in the industry, the team is a great resource for tips and advice when looking to sell a classic. Should you have any questions on the selling process or like some recommendations and best practice tips, the team is available and ready to assist you. For example, they'll tell you that taking detailed and professional shots of your classic can significantly increase the amount of the offer you'll get from potential buyers. If you need more details on how to take good pictures of a classic, the team can walk you through some good advice.

Learn More
Delorean Makes and Models
Contact Us:
Phone: 877-912-0007
Fax: 310-494-9398
Please Call Any Time / Year Round / 365 Days
And Tell Us About Your Auto!
Call Alex Manos and his team today to ask for their quote on your Delorean. You'll be surprised by their offer and many additional services they include. Take the hassle out of the equation and let the team handle the whole process for you, from paperwork to transportation from anywhere in the U.S., including Alaska.
[sociable/]