Want to
Sell Your Austin Healey

?
Everything You Should Know!
Raise your hand if you love Austin Healey! There are basically two models, the 100 and 3000 series.
---
The elongated hood, the compact design, and the convertible option. What's not to love? And they don't just look good — they also provide a smooth ride.
---
The manufacturer (obviously) no longer produces these vehicles, so you can likely get some serious cash for your AH car.
---
Currently have an Austin Healey for sale? If so, read on to discover everything you need to know about selling your Healey.
Old British sports cars are beauties, and Austin Healeys are no exception. The company had humble beginnings in 1952, when two businesses joined forces.
The British Motor Corporation's (BMG's) Austin division and the Donald Healey Motor Company are the masters behind the AH brand. This vehicle manufacturer and automotive design firm (respectively) then went on to experience twenty successful years making Austin Healey cars for enthusiastic collectors.
The two groups' 20-year-long partnership came to an end in 1972. At this point, they stopped producing all cars. However, despite the brand's relatively short-lived nature, it left a lasting impact on classic car aficionados.
During this 20-year period, the brand focused on three models. All three models have distinguishing features that make them appealing to buyers:
Austin Healey 100-4
The Austin Healey 100-4 was the brand's first vehicle. The company produced it from 1952 to 1956, and it was a great success in both Britain and the U.S. Donald Healey originally released the Austin Healey 100-4 to raise his company's production value. The Austin Healey 100-4 was an affordable model but still provided sports car fans with a luxurious vehicle to ride around in and collect.
Fun fact: The "100" in the Austin Healey 100-4's name came from the fact that the car could reach 100 mph.
Austin Healey 100-6
The Austin Healey 100-6 was the 100-4's replacement. It first hit the market in 1956 and wowed car aficionados with its various upgrades. A few factors that set the Austin Healey 100-6 apart were:
It was built on a longer wheelbase
More room in the cabin for passengers
The option for 2+2 seating
An extra air intake on the car's hood
A fixed-position windshield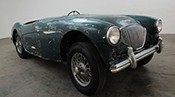 Austin Healey 3000
The Austin Healey 3000, named for its 3000cc engine, became available in 1959. The company produced this model until 1967. Overall, the Austin Healey 3000 had a much more luxurious vibe. It had:
Wind-up windows
A new exhaust
Servo-assisted brakes
2+2 and two-seater models
Some people believe that they'll only get a good deal on a fully restored Austin Healey. However, this misconception couldn't be further from the truth.
Some buyers like to purchase project cars — i.e., the ones that are half-done and still need some serious work. Project cars give the buyer more creative freedom to create the vehicle they've always dreamed of.
Whether your AH vehicle is in mint condition or has been rusting away for several years, My Team and I Purchase Healey's In Any Condition!
Selling your AH vehicle is a very personal choice. While I can't decide to sell it for you, I can present some questions for you to consider:
Do You Plan on Passing It Down?
An AH vehicle can be a great inheritable item to pass down to your children or grandchildren. Or, you can give it as a gift to someone in your life who has a deeper appreciation of it. But if no one in your family has a strong passion for Austin Healeys, you can profit off of your vehicle when you sell it to a classic ca buyer like me.
Does Your Car Present a Financial Burden?
Your Austin Healey isn't worth keeping if it constantly sucks money from your wallet. It can get expensive to pay for its gas, insurance, storage space, and repairs, especially if you own other vehicles. Considering financial factors will help you determine if your Austin Healey is worth hanging onto.
Do You Enjoy Your Car?
Some people are enamored with their AH vehicles. They admire their cars' beautiful bodies as they take the trash out or get the mail and can never seem to get enough of their vehicles.
Others have very different feelings. They may view their cars as simple objects that take up space in the garage. If you start viewing your AH car as a piece of junk that collects dust rather than a prized possession, it may be time to part ways with it.
If you're unsure whether your Austin Healey is worth keeping, give me a call, and we can discuss a possible sale.
1. Assemble Your Paperwork Paperwork won't be the most exciting part of selling your car, but you must prioritize it. So here are some documents you should gather:
Your car's title
Any outstanding debt on the car
Vehicle history
2. Curb Appeal Now, you don't have to give your Austin Healey for sale a whole new paint job or cover up its scratches and dents. But if can vacuum the interior, clear out any junk, and put a nice air freshener inside, your vehicle will look much more attractive to any potential buyers.
3. Listen to the Experts If you have an Austin Healey for sale, you'll want to present it to a classic car expert like me, Alex Manos. I will obtain all relevant details on your vehicle and offer a fair price that you'll be hard-pressed to find elsewhere.
Lana R.
1967 Austin-Healey 3000
11-24-2023
Henderson, NV
"The whole transaction was a smooth process from beginning to end."
Kevin B.
1959 Austin-Healey 100-6
08-7-2023
Moreno Valley, CA
"As a serious British sports car owner I chose to sell my beautiful 1959 Austin Healey 100-6 due to downsizing. I had visited the showroom a few years ago and had a very positive experience speaking with the sales staff who were very friendly, knowledgeable and there was absolutely no pressure or hard sell tactics. I called Alex Manos and sent him the information he requested and he made me an honest, fair offer. The price was agreed on and as he promised, the money was wired into my bank account the next day. Dealing with this company was the best experience I've ever had with a car dealer and if I ever need another vintage car or want to sell one, he is the first person I will call. I highly recommend him to anyone looking for a fun car or project."
John M.
1959 Austin-Healey 100-6 Convertible Sports Car
01-22-2023
Suffield, CT
"Working with Alex and his team was a seamless process. He is professional and all our communications made for a very pleasant transaction. I would recommend him and his team for anyone dealing with unique and specialty vehicles."
Jeff K.
1961 Austin-Healey 3000
01-12-2023
Fremont, CA
"Always a pleasure with work with the people over there. Nothing but smooth easy transactions."
James R. Jr.
1956 Austin-Healey 100-4 BN2
01-4-2023
Summeville, SC
"Completely professional. every part of transaction was as promised. would reccommend Alex to anyone looking to sell their car."
Frank S.
1962 Austin-Healey 3000
12-25-2022
Fort Meyers, FL
"Everyone was polite, helpful and friendly. sad to see my car go but I know she will be well cared for and loved!"
James R.
1956 Austin-Healey 100-4 BN2
10-23-2022
Summerville, SC
"When I made the decision to part with my vehicle I approached Alex and he and his staff responded in a professional manner. They made the entire transaction from initial contract to final shipment happen with very little effort and no stress on my part."
Alan B.
1955 Austin-Healey 100-4
10-2-2022
Roswell, GA
"From beginning to end the transaction with Alex has been a real pleasure. He has straight forward and prompt with the documentation and his staff did a great job with the payment and shipping. I would highly recommend doing business with Alex to anyone I run into who needs his services. Thanks again Alex!"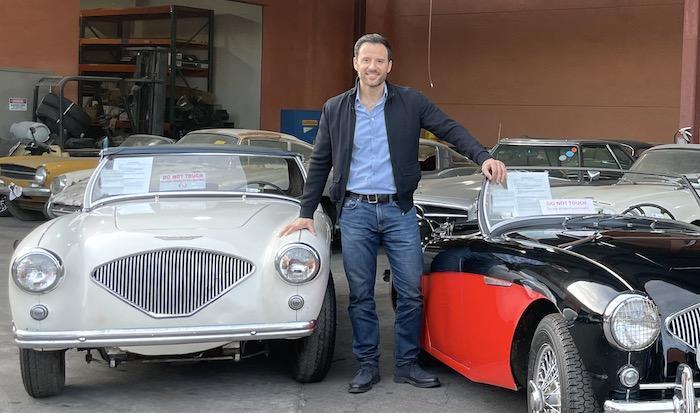 There are many places online to sell your classic Austin Healey, but not all of them are ideal.
For example, some car collectors turn to sites like Craigslist or eBay to sell their vehicles. Or, they'll try to complete an online deal with their local dealer. These methods are appealing to many buyers who believe that local transactions are their only option.
However, selling online and limiting your search results to local buyers will only hurt you in the long run. Anyone can hop on Craigslist or eBay and purchase your beloved vehicle without understanding the true Austin Healey value.
Also, a local dealer or auction site will have limited knowledge of your AH vehicle. Think about it — these businesses handle hundreds of cars a day. How could they know the legitimate Austin Healey value of your model?
When selling your classic AH online, you shouldn't trust a person or business that doesn't specialize in classic cars. Instead, your best bet for making a fair sale will be with me, Alex Manos. I have years of experience appraising and purchasing classic British cars. I'll always provide you with an honorable deal, as I understand the true value these beautiful vehicles possess.
The best part? I'll buy from you no matter where you live in the U.S. I've purchased vehicles from customers in California, Maryland, and everywhere in between. My team and I are on the hunt for any Austin Healey in the nation, so don't be shy about getting in touch.
Do you believe you're located in a location that's too remote? Or, are you under the impression that you own an Austin Healey for sale that's too worn down? Then I encourage you to call anyway. You'll be surprised at what you can get for your vehicle!