Selling A Classic Austin-Healey?
We Buy Nationwide, Any Condition!
My name is Alex Manos, I'm a serious classic car buyer looking to buy Austin Healey! Sell your 100-4, 100-6, or 3000 here for for top dollar. Whether mint condition, in a barn 30 years, or worse… if you have a classic Healey or other classic sports or luxury car for sale, call or contact us via our website. Let's Talk!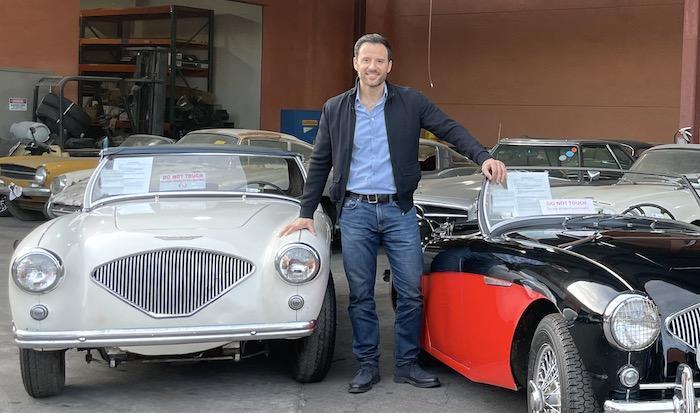 We're Always Looking To Buy
Austin-Healey 100 (1953-1956)
100-4 BN1 (1953-1955)
100-4 BN2 (1955-1956)
100M (1955-1956)
100S (1955)
Austin-Healey 100-6 (1956-1959)
BN4 (1956-1959
BN6 (1958-1959)
Austin-Healey 3000 (1959-1967)
3000 Mk I (BN7 & BT7, 1959-1961)
3000 Mk II (BN7, BT7 & BJ7, 1961-1963)
3000 Mk III (BJ8, 1963-1967)
WE PAY TOP DOLLAR FOR MANY TYPES OF OLD CARS, RESTORED, PROJECTS & EXOTICS!
Or fill out the form on our website, and we'll reply ASAP. We'll go over everything you need to know to sell your car from the convenience of your home.
Send us an email or a text with some photos of your car – nothing fancy! It's often all we need to make an offer.
We send payment immediately! Our staff will work with you to pick up the vehicle, you get paid fast! It's that simple.
My staff and I are always on the lookout to purchase classic European & American sports and luxury automobiles. If you have a vehicle that you feel might be of interest to us, Call Us Now at 855-293-0707, or contact us via the online form. We are happy to pay Top Dollar and in CASH for many types of vehicles: NEW, OLD, RESTORED, RESTORATION PROJECTS & EXOTIC cars.
"I offer the best prices, fastest payment, and most hassle-free pick-up in the classic car market."
– Alex Manos
John M.
1959 Austin-Healey 100-6 Convertible Sports Car
01-22-2023
Suffield, CT
"Working with Alex and his team was a seamless process. He is professional and all our communications made for a very pleasant transaction. I would recommend him and his team for anyone dealing with unique and specialty vehicles."
Jeff K.
1961 Austin-Healey 3000
01-12-2023
Fremont, CA
"Always a pleasure with work with the people over there. Nothing but smooth easy transactions."
James R. Jr.
1956 Austin-Healey 100-4 BN2
01-4-2023
Summeville, SC
"Completely professional. every part of transaction was as promised. would reccommend Alex to anyone looking to sell their car."
Frank S.
1962 Austin-Healey 3000
12-25-2022
Fort Meyers, FL
"Everyone was polite, helpful and friendly. sad to see my car go but I know she will be well cared for and loved!"
James R.
1956 Austin-Healey 100-4 BN2
10-23-2022
Summerville, SC
"When I made the decision to part with my vehicle I approached Alex and he and his staff responded in a professional manner. They made the entire transaction from initial contract to final shipment happen with very little effort and no stress on my part."
Alan B.
1955 Austin-Healey 100-4
10-2-2022
Roswell, GA
"From beginning to end the transaction with Alex has been a real pleasure. He has straight forward and prompt with the documentation and his staff did a great job with the payment and shipping. I would highly recommend doing business with Alex to anyone I run into who needs his services. Thanks again Alex!"
Louis S.
1960 Austin-Healey 3000 MKI BN7
09-19-2022
Indianapolis, IN
"Alex was a pleasure to do business with. Every aspect of our transaction was without any issues.
I had problems from my end getting a title for my vehicle and Alex was very patient and accommodating. I would love to do more business with him in the future."
David C.
1965 Austin-Healey 3000
07-22-2022
Pittsburgh, PA
"Alex Manos was superb in the sale of my Austin Healey. Paperwork shipment payment coordination all top notch. Very smooth transaction process. I highly recommend the services of Alex Manos and his team."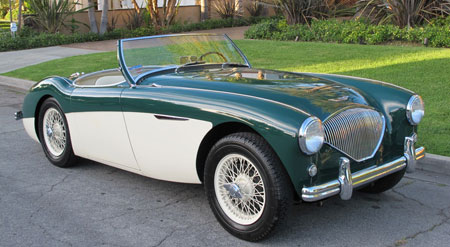 We're Always Looking to Buy: