Selling a Classic Jaguar?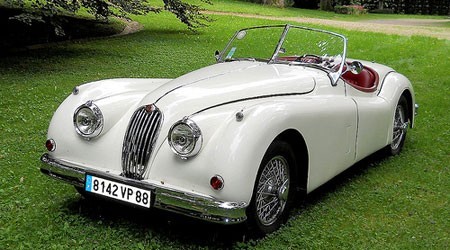 Looking to sell your classic Jag? Jaguar Cars Ltd, known simply as Jaguar, has produced some of the best-loved sports cars ever made – epitomizing its former slogan, "grace, space and pace." Founded in 1922 under the name Swallow Sidecar Company, the first models under this name were the SSK and SS1 or S-100, which are extremely rare today. The pre-war 1.5, 2.5 and 3.5 liter models have unofficially become known as MK IV models. The name of the company was changed to Jaguar following World War II because of the stigma of the initials "SS." The first post-war model was the 1948 Mark V, however the big breakthrough for Jaguar was the launch of the XK 120 also in 1948, which evolved into the XK 140 and XK 150. Jaguar then launched the E-Type in 1961. Of the Series I cars, Jaguar manufactured some limited-edition variants including the Lightweight E-Type or XKE and the Low Drag Coupe. The E-Type Series II would follow from 1969 to 1971, with Series III from 1971 to 1974
Jaguar has a rich history that dates back nearly a century and has shaped and influenced the design of the models they continue to produce today. Well known for their prestige, durability and beauty, Jaguar enthusiasts and European car collectors from around the world continue to search for their dream Jaguar models. If you are looking to sell classic Jaguar cars from your private collection, have a rare Mark IV model sitting in your garage, or simply want to find out the potential value of your XK 120, the team at AlexManos.com wants to speak with you! As specialists in the European and American classic auto market, they can help you sell vintage Jaguar and classic Jaguar models of all types and conditions. Connect with them today to learn more about your options.
WE PAY TOP DOLLAR FOR MANY TYPES OF OLD CARS, RESTORED, PROJECTS & EXOTICS!
James M.
1969 Jaguar XKE Roadster
07-7-2022
Hershey, PA
"The sale of our jag XKE was done very professionally and efficiently. Everyone we dealt with was courteous and helpful. We wouldn't hesitate to use Alex Manos again in the future."
Charles T.
1970 Jaguar XKE 2+2
04-14-2022
Bossier City, LA
"Very positive experience..the team was easy to work with and I would recommend them highly."
David G.
1966 Jaguar XKE Roadster
03-21-2022
Brentwood, TN
"The experience that I had selling my 1966 E-Type Jaguar to Alex was effortless and professional. His support staff (and Alex) were incredibly responsive and helpful throughout the entire process. I went from first contact to car pickup in under 48 hours. I would never have imagined that it would be that easy until I experienced it for myself. I have already recommended Alex to several friends who may be interested in selling their classics."
John S.
1967 Jaguar XKE Roadster
03-17-2022
Palos Verdes Estates, CA
"The whole process was very easy and the staff was very polite. The whole process was great!"
Steve W.
1969 Jaguar XKE 22
02-19-2022
Las Vegas, NV
"I recently sold my 1969 XKE Jaguar to Alex he was very professional the selling process went smooth I was very happy to sell this to him he bought the car unseen and I received a very reasonable price thank you Alex and your team smooth move buying process Alex and his team had to pick this car up in Las Vegas the transportation was extremely easy definitely would use Alex again if I have another car to sale thank you!"
Gary B
1963 Jaguar XKE Roadster
02-8-2022
Palmetto Bay, FL
"Very professional and smooth transaction!"
Carl S.
1951 Jaguar Mark V Drophead Coupe
02-5-2022
Brogue, PA
"As a seller to Alex- All parts of the transaction went very smooth both with Alex and everyone that works with and for Alex. I would not have any problems dealing with Alex in the future. I would Like to Thank Alex for his business and wish him and the Car Club nothing but good wishes. Smith Auctioneers LLC."
Sherman P.
1967 Jaguar XKE 2+2
12-8-2021
Naperville, IL
"Alex and team were a pleasure to work with. The sale of my classic car was smooth and quick and painless. The classic car market is generally a pain to sell into, I've found, but Alex fixes that. He gets my recommendation."
Catherine H.
1954 Jaguar XK120SE Roadster
10-19-2021
Francestown, NH
"Mr, Manos was a pleasure to work with. The entire process from beginning to end went smoothly. We highly recommend him. Transact your business with confidence."
Doug S.
1964 Jaguar XKE Fixed Head Coupe
10-12-2021
Fresno, CA
"It took me 4 yrs to finally pull the trigger. I was redoing the fuel system when my wife passed from cancer and MS, after that ( married 53 yrs) I couldn't get motivated to finish the job. I researched your firm and read a lot of positive comments, so I contacted you and you made it so easy to do and you gave me a fair price. The whole transaction took 5 days and it was picked up today on time, very happy we got together. I would recommend you to any one needing your services, your staff is great also. Thank you all and God Bless."
We're Always Looking to Buy!