Selling a Classic Jaguar?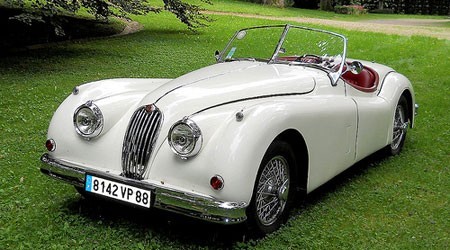 Looking to sell your classic Jag? Jaguar Cars Ltd, known simply as Jaguar, has produced some of the best-loved sports cars ever made – epitomizing its former slogan, "grace, space and pace." Founded in 1922 under the name Swallow Sidecar Company, the first models under this name were the SSK and SS1 or S-100, which are extremely rare today. The pre-war 1.5, 2.5 and 3.5 liter models have unofficially become known as MK IV models. The name of the company was changed to Jaguar following World War II because of the stigma of the initials "SS." The first post-war model was the 1948 Mark V, however the big breakthrough for Jaguar was the launch of the XK 120 also in 1948, which evolved into the XK 140 and XK 150. Jaguar then launched the E-Type in 1961. Of the Series I cars, Jaguar manufactured some limited-edition variants including the Lightweight E-Type or XKE and the Low Drag Coupe. The E-Type Series II would follow from 1969 to 1971, with Series III from 1971 to 1974
Jaguar has a rich history that dates back nearly a century and has shaped and influenced the design of the models they continue to produce today. Well known for their prestige, durability and beauty, Jaguar enthusiasts and European car collectors from around the world continue to search for their dream Jaguar models. If you are looking to sell classic Jaguar cars from your private collection, have a rare Mark IV model sitting in your garage, or simply want to find out the potential value of your XK 120, the team at AlexManos.com wants to speak with you! As specialists in the European and American classic auto market, they can help you sell vintage Jaguar and classic Jaguar models of all types and conditions. Connect with them today to learn more about your options.
WE PAY TOP DOLLAR FOR MANY TYPES OF OLD CARS, RESTORED, PROJECTS & EXOTICS!
Joy G.
1968 Jaguar XKE Fixed Head Coupe
05-14-2023
Central Falls, RI
"I am so grateful to Alex Manos and his team!! When my husband passed away in 2020, he left behind his 1968 Jaguar XKE project in the garage. It took me a few years to muster up the energy to start the selling process, but I could not be more satisfied with how easy and efficient this process truly was. Every staff member I dealt with was professional and courteous. Camille was extremely helpful in orchestrating the pick up of the car and the communication was excellent the whole way through. I would highly recommend Alex Manos to anyone looking to sell a classic car. I honestly can't envision how the process could be any easier. Thank you so much!!"
Wendy F.
1950 Jaguar Mark V Drophead Coupe
05-6-2023
Marlboro, NJ
"I reached out to Alex to see if he would be interested in my a 1950 Jaguar Mark V. We reached an agreement and I believe we were both totally satisfied with the event."
Danny T.
1963 Jaguar Mark II Saloon 3.8
05-2-2023
Whittier, CA
"Thank you Valerie, and your staff that includes David the driver that picked up my Jaguar, cool down to earth guy. It was a positive experience and transaction doing business with the Beverly hills car club 100 percent satisfied. This was my third car that you guys have purchased from me, all sales were a positive experience. I would highly recommend this to my friends and anyone thinking of selling their car – in any condition. See you in the short future Valarie for the next sale."
Conley P.
1973 Jaguar XKE Roadster
04-12-2023
Pearisburg, VA
"It was a pleasure doing business with Mr Manos and his team. Very professional and efficient. They picked up my Jaguar Etype project car and all the parts. I hope they can finish the car and find it a good home. Look forward to using them again with another Etype."
Michael G.
1969 Jaguar XKE 2+2
03-28-2023
Tucson, AZ
"I had an excellent experience with AlexManos.com. From my initial contact with Valarie through the purchase process everything was professional and easy. All of my questions were answered completely and the staff at AlexManos.com made sure that every aspect of the purchase process flowed perfectly. Camille from the transportation company is amazing! Despite my crazy schedule, she made sure that the cars were picked up and delivered as promised."
David E.
2006 Jaguar Super V8 Portfolio
03-18-2023
Columbus, GA
"The absolute BEST car selling experience I have ever been part of. Maybe even the best business experience period.. Valarie. my main contact was professional , friendly and an all around pleasure. I instantly felt at ease like I had known her forever. Every single promise was a promise kept and never once was I disappointed-only in that I wished I was going to CA with my car! Alex Manos and company will go above and beyond doing what they do best, buying cars they and their customers will love. I was paid days before my car even left my possession. They do something no one ever does anymore , they TRUST and it felt great being the recipient of that. I feel good knowing that these people now have the best car I have ever owned and it is in Beverly Hills where it belongs awaiting a new owner. Thanks to all of the amazing people I dealt with at AlexManos.com"
Fredrick B.
1970 Jaguar XKE 2+2
03-1-2023
Plano, TX
"Selling my 1970 Jag XKE was a difficult decision only because of its sentimental value. The sale and car pickup process however was easy."
Mike W.
1954 Jaguar XK120M Roadster
02-2-2023
Arnold, CA
"Thank you Alex for an always courteous, professional and efficient transaction. I feel that I am leaving my machine in your good and respectful care."
James M.
1969 Jaguar XKE Roadster
07-7-2022
Hershey, PA
"The sale of our jag XKE was done very professionally and efficiently. Everyone we dealt with was courteous and helpful. We wouldn't hesitate to use Alex Manos again in the future."
Charles T.
1970 Jaguar XKE 2+2
04-14-2022
Bossier City, LA
"Very positive experience..the team was easy to work with and I would recommend them highly."
We're Always Looking to Buy!