Top Dollar, Fast Payment, Nationwide!
Want to sell your 328, today!? I'm a serious Classic Ferrari Buyer, whether your 328 (or other older Ferrari) is in mint condition, was in an accident, or in a barn the last 30 years, we want to talk! If you have a classic sports car you're looking to sell, regardless of condition, CALL NOW 877-912-0007, or contact us via the website.
WE BUY ALL FERRARI 328 1985-1989
3 quick steps can sell your Ferrari!
Or fill out our simple form, and we'll reply ASAP. We'll go over everything you need to know to sell your car from the convenience of your home.
Send us an email or a text message with some of your car best photos. That's often all we need to make an offer.
We send payment immediately! Our staff will work with you to pick up the vehicle, and get you paid fast! It's that simple.
My staff and I are always on the lookout to purchase classic sports and luxury automobiles. If you have a vehicle that you feel might be of interest to us, Please Call Us Now at 877-912-0007, or contact us via the online form. We are happy to pay Top Dollar and in CASH for many types of vehicles: NEW, OLD, RESTORED, RESTORATION PROJECTS & EXOTIC cars. Our expert appraisal and white-glove services help us to stand out in the marketplace and get you the best deal!
"I offer the best prices, fastest payment and hassle-free pick-up in the classic car market."
– Alex Manos
Don't just take our word for it!
Norman K.
1982 Ferrari 308GTSI
12-30-2022
San Jose, CA
"My experience dealing with Alex was 100% positive. He was professional, quick and at all times transparent in his dealings. He made an honest and fair offer and followed through faster than I could have hoped for. Would definitely do business with Alex again."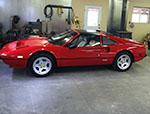 Kim H.
1984 Ferrari 308 GTS Quattrovalvole Euro
12-3-2022
Big Arm, MT
"Sold one of my Ferrari 308 a few years ago. Listed it on a Ferrari enthusiast website, and it was the worst experience I have ever had in selling a vehicle. When it was time to sell this last Ferrari, I decided to get in touch with Alex, who called me immediately. Conversation was easy-going and very cordial. Alex requested photos which I sent , and within 24 hours had a very fair offer. Sure, I could have sold it on my own but the convenience of not dealing with the rude inquiries, bottom feeders, Individuals thinking they're an expert and trying to beat down the condition of the car was just not worth the hassle. I am extremely happy with how easy this whole process was. Highly recommend contacting Alex to anyone looking to sell their exotic or classic vehicle. Thanks again Alex!"
Joshua K.
1989 Ferrari Mondial T Cabriolet
09-12-2022
New York, NY
"Alex and his team are consummate professionals and have elevated the buying and selling of classic cars to an art form. Absolutely the smoothest transaction possible with excellent communication and attention to detail. As an example of attention to small details that make things go smoothly: I was given, in advance, the cell phone number of the tow truck driver and a time when I could expect a call. As somebody who mercilessly screens incoming calls, having the number ahead of time ensured I actually answered. 10/10 would do business again."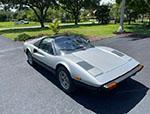 Fayed F.
1982 Ferrari 308 GTSi
07-19-2022
Parkland, FL
"A very good experience. Very professional and helpful in making sure the transaction went very smoothly. I am very pleased with the outcome."
Brent W.
1998 Ferrari F1 GTS
05-9-2022
Eugene, OR
"It was a great experience Alex made it really easy. The whole crew was great very professional made everything easy paperwork picking up the car. Thank you very much."
Gary B.
1983 Ferrari Mondial Quattrovalvole
04-15-2022
San Diego, CA
"Alex was great! Very easy to do a deal with and his support staff did an excellent job in handling the Ferrari Mondial transaction and it was quick and easy."
Allen T.
1988 Ferrari Testarossa
04-4-2022
Severna Park, MD
"The entire purchase was handled professionally and efficiently. Alex's staff are friendly and helpful. We were very impressed by the service provided and appreciate the prompt attention to all details."
Keith O.
1975 Lamborghini Urraco
01-26-2022
Paradise Valley, AZ
"A friend told me he knew someone who would like to buy my 1970 convertible Jaguar XKE and 1975 Lamborghini Urraco. He took some photos and sent them to Alex. A few days later, Alex called me and offered to buy them both. We reached agreement on the purchase price without much difficulty on the first phone call. His offer was fair and I had two cashier's checks via FedEx the next day. Alex was patient while I had to search for the Jag's title because I had owned it for 42 years. I dropped the titles in the return FedEx envelope and two days later, Alex's transport people picked up the cars. I miss the cars, but Alex made this process as easy as possible. I would gladly do business with Alex again."
John S.
1991 Ferrari 348TS
01-25-2022
Peoria, IL
"I was beyond impressed with Alex and his whole team from start to finish. Everything was as easy as described, professional, and well coordinated. Yes, you could get more money from selling privately, posting an advertisement, setting up appointments to see your car, letting multiple people drive around in it, having people not show up, 'holding' the car for somebody which ALWAYS falls through with 'financing', waiting months potentially while you attempt moving a high end car, OR, contact Alex…get a fair price and your money the following day. Using Alex, I didn't miss out on the car I was tracking down when one came up for sale, the new car actually arrived last night! Thanks again, Alex!"
Ernie M.
1985 Ferrari Mondial Cabriolet
01-3-2022
Standwood, WA
"Excellent customer service and very professional. Thank you Alex can't wait to see your show room!"
David

01 Feb 2023

Second time selling to Alex, the transportation had some glitch but the process was smooth in general.

Jeff

29 Jan 2023

I had a very good experience selling my classic BMW to Alex. I spoke and emailed with Alex personally and the transaction was smooth and easy.

Robert H

29 Jan 2023

Alex has a well structured organization to follow-up on the title, sale, payment and transport of my vehicle. Truly impressive and efficient.

Josh Z

29 Jan 2023

Excellent communication. Awesome staff, extremely attentive with questions and professional shipping coordination. Super fast wire transfer.

Susan C

27 Jan 2023

Service was quick and efficient. Instructions for completing paper work were very well done and easy to follow.
Good wrok!

Steve K

27 Jan 2023

I couldn't be more satisfied! Responsive communication, a simplified process, and a wonderful staff!

Craig M

25 Jan 2023

I had spoken to Alex Manos years ago regarding my 66 220SE Convertible, originally sold to a Hollywood celebrity, but at that time decided not to part with it. Now, after 45 years of ownership, Beverly Hills Car Club was the first company I called. Abraham Costallanos and the staff were easy to deal with, courteous, competent and thorough.. from arranging for documents signatures and prompt payment to scheduling pick-up. They made parting with my baby easy and pleasurable. I would highly recommend them to anyone with a truly collectible automobile to sell.

R Bender

25 Jan 2023

Purchase of my 2002 Aston Martin DB7 went smoothly. The transfer of funds was quick and his staff made the transaction concise and timely. The vehicle was picked up in a matter of days with notifications of the time and date the driver would arrive.
We're Always Looking to Buy: