My name is Alex Manos and I'm a serious buyer of classic Triumph GT6 and other British & European classic cars! Don't waste time with car auctions, Craigslist, Ebay or private selling! I'm a serious nationwide classic car buyer, and you can sell your GT6 HERE for Top Dollar! Got a classic Triumph or other vintage auto? Let's talk today! Whether your vehicle is in mint condition, or was in a barn for 30 years, any Classic Triumph regardless-of-condition, CALL 877-576-1622, or contact via our website.
Top Dollar
Fast Payment
Nationwide!
Selling? We're Always Looking To Buy!
Triumph TR6 Mark I, II, III & Many More!
3 quick steps can sell your car!
Or fill out our simple form, and we'll reply ASAP. We'll go over everything you need to know to sell your car from the convenience of your home.
Send us an email or a text message with some of your car best photos. That's often all we need to make an offer.
We send payment immediately! Our staff will work with you to pick up the vehicle, and get you paid fast! It's that simple.
My staff and I are always on the lookout to purchase classic sports and luxury automobiles. If you have a vehicle that you feel might be of interest to us, Please Call Us Now at 877-912-0007, or contact us via the online form. We are happy to pay Top Dollar and in CASH for many types of vehicles: NEW, OLD, RESTORED, RESTORATION PROJECTS & EXOTIC cars. Our expert appraisal and white-glove services help us to stand out in the marketplace and get you the best deal!
"I offer the best prices, fastest payment and hassle-free pick-up in the classic car market."
– Alex Manos
Don't just take our word for it!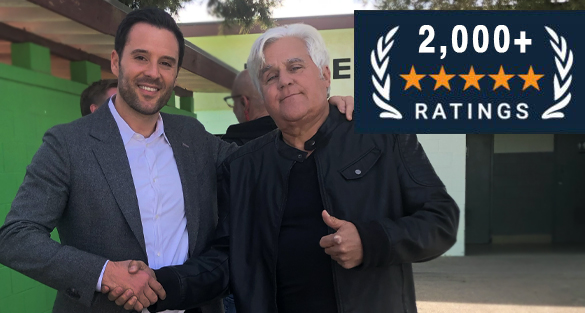 James W.
1954 Triumph TR2 Roadster
12-6-2022
Blairsville, GA
"Easy process. Alex offered me a price that I initially considered too low. However, after weighing the convenience of selling the car to him, I took the deal. I did not want to deal with tire kickers who waste my time nor did I want to go the auction route which is costly and complicated."
Dan H.
1971 Triumph TR6
07-27-2022
Bakersfield, CA
"Transaction to sell one of my classic cars was easy and handled in a quick and professional manner. Would work with Alex again to either buy or sell."
Dottie R.
1960 Triumph TR3A
05-11-2022
Lancaster, OH
"I wasn't a shopper but a seller. Loved talking to Jarrod and his girls for a streamline sale of my 1960 TR3A. Everyone really knows what they are doing. Smooth transaction, signed papers and had my money in my bank the next day. Sent title UPS. Driver call a few days later and showed up with car hauler and loaded my car with caution onto the trailer and off it went! The driver even had compassion for me because it was an emotional moment. I would highly recommend working with Jarrod and Alex Manos. I am a widow and didn't have to worry about strangers coming to my house. They offered me more than other people wanted to pay… very fair considering all the transporting and seamless transaction. So I say thank you, Jarrod and Alex for simplifying the sale and transaction. I will let club members in our group how wonderful things went!"
Susan R.
1971 Triumph GT6 MK3
09-15-2021
Bowman, GA
"Great experience in sale of Triumph GT6 that I had inherited from my brothers estate.
Alex and his staff were very courteous and efficient in the whole process of transaction of sale. I was impressed that Alex is who communicated with me through the offer on Triumph to the actual sale and was patient with me until I considered several other potential buyers. Once I made my decision to accept Alex's offer I was amazed at how fast and professional everything was handled. Thank you to Alex and his staff!"
John B.
1964 Triumph TR3
04-15-2021
Corpus Christi, TX
"Alex and his staff were excellent. They promptly sent a cashiers check for the agreed upon purchase price of my Triumph. They arranged transportation to pick up the car that worked with my schedule. I really appreciate that he is saving a car that deserves a second life."
Ed P.
1960 Triumph TR3A
04-4-2021
Hopewell Junction, NY
"Excellent transaction, from price negotiation, payment, document transfers and vehicle transport, Alex and team did a great job making the sale of my TR3A straightforward and uncomplicated. Very professional. I would highly recommend them."
Dennis M.
1976 Triumph TR6
03-21-2021
Yarmouth, MA
"Selling my TR6 to Alex was a quick and hassle-free experience."
Brian D.
1973 Triumph GT6 MK III
03-17-2021
Plantation, FL
"Great overall experience. The entire team communicates well and made the process of selling my vehicle very simple from start to finish. I'd definitely recommend Alex Manos and contact them again in the future if the need arrives."
Nancy E.
1959 Triumph TR3A
02-26-2021
Hilton Head Island, SC
"Totally professional experience from start to finish. Excellent instructions and great customer service from the initial offer to the vehicle pick up. It all went perfectly."
Anthony A.
1976 Triumph TR6
01-23-2021
Melbourne, FL
"I live in Florida, Alex is in California, the whole process from start to finish took 3 days, made me an offer, settled on price on Thursday, on its way to Alex on Saturday – easy please I would highly recommend Alex and all of his team."
Steve M.
1967 Triumph TR4A
01-7-2021
Oblong, IL
"Quick response to my query.. great to deal with,, made the deal, payment was fast.. worked with me on picking up cars.. professional service… Thank you!"
Dennis B.
1962 Triumph TR4
11-8-2020
Downey, CA
"My experience in selling my 1962 TR-4 to the AlexManos.com was ALL good from start to the completion. The buyer was very professional and personable in working out the buying price. The transportation driver again was first class when picking my vehicle and knew the paperwork so well. I would deal with this company again without hesitation."
Jim N.
1963 Triumph TR3
08-30-2020
Sylvania, OH
"I had a very pleasant experience with Alex Manos' company. Once I had sold my vehicles, my concerns were twofold, payment and shipping. Payment was instant by certified check delivered the next day by Fedex. A return Fedex envelope was provided for me to send the titles and Bills of Sale. During this time I was contacted by a shipping company to make arrangement to collect the cars. After a slight hiccup, during which I was continually informed of progress, the cars were picked up. Start to finish, it took five days, including a weekend. I was totally satisfied."
Don T.
1968 Triumph TR250
03-25-2020
Wilson, NC
"I was very skeptical about selling a car this way but Alex and the people working with him were all very professional and I would not hesitate to do business with Alex Manos again!"
Donald G.
1968 Triumph TR250
01-9-2020
Waldron, AR
"The process went flawless. I hated to sell the car I had for 40+ years and looked at several options before choosing AlexManos.com, but choosing them was the correct decision."
Colin M.
1967 Triumph TR4A
01-2-2020
Santa Fe, New Mexico
"Working with Alex was an absolute pleasure! Their efficiency is amazing! I sold them my 1967 Triumph TR4A project car for a fair price. I would recommend them to anyone looking to do the same."
Cindy T.
1962 Triumph TR4
11-12-2019
Cabot, AR
"The process was very easy. Alex contacted me shortly after I submitted the purchase request. A cashier check was overnighted, along with a prepaid return envelope for the title. They had a very courteous shipping company contact me for the pickup. Overall it was a very easy process."
Gary B.
1965 Triumph TR4
11-10-2019
Oconomowoc, WI
"If you are looking to sell, Alex Manos and his team are the way to go. Very smooth transactions and transport pick up. Bittersweet on my end but Thank you Alex."
Jeff C.
1976 Triumph TR6
11-10-2019
Livermore, CA
"Alex was very professional and expedient in the purchase of my Triumph, all matters from payment to pick up were handled well!"
Lynn G.
1958 Triumph TR3
10-25-2019
Pleasant Hill, IL
"Overall experience was positive except for a mix-up on pickup arrangements."
David

01 Feb 2023

Second time selling to Alex, the transportation had some glitch but the process was smooth in general.

Jeff

29 Jan 2023

I had a very good experience selling my classic BMW to Alex. I spoke and emailed with Alex personally and the transaction was smooth and easy.

Robert H

29 Jan 2023

Alex has a well structured organization to follow-up on the title, sale, payment and transport of my vehicle. Truly impressive and efficient.

Josh Z

29 Jan 2023

Excellent communication. Awesome staff, extremely attentive with questions and professional shipping coordination. Super fast wire transfer.

Susan C

27 Jan 2023

Service was quick and efficient. Instructions for completing paper work were very well done and easy to follow.
Good wrok!

Steve K

27 Jan 2023

I couldn't be more satisfied! Responsive communication, a simplified process, and a wonderful staff!

Craig M

25 Jan 2023

I had spoken to Alex Manos years ago regarding my 66 220SE Convertible, originally sold to a Hollywood celebrity, but at that time decided not to part with it. Now, after 45 years of ownership, Beverly Hills Car Club was the first company I called. Abraham Costallanos and the staff were easy to deal with, courteous, competent and thorough.. from arranging for documents signatures and prompt payment to scheduling pick-up. They made parting with my baby easy and pleasurable. I would highly recommend them to anyone with a truly collectible automobile to sell.

R Bender

25 Jan 2023

Purchase of my 2002 Aston Martin DB7 went smoothly. The transfer of funds was quick and his staff made the transaction concise and timely. The vehicle was picked up in a matter of days with notifications of the time and date the driver would arrive.
We're Always Looking to Buy: