Selling a Classic Mercedes-Benz?
Alex Manos
Serious Buyer
Let's Talk!
TOP DOLLAR, NO-HASSLE, NATIONWIDE!
Got a Classic Mercedes-Benz? Looking to Sell? I Buy Them! My name is Alex Manos, I'm a serious classic car buyer and you can Sell Your Mercedes Here for Top Dollar! Got a 190SL, 230SL, 250SL, 280SL, 300SL, or other classic automobile? Whether your vehicle is in mint condition, or in a barn 30 years, regardless-of-condition call 877-912-0007, or contact via our website. Let's Talk Today!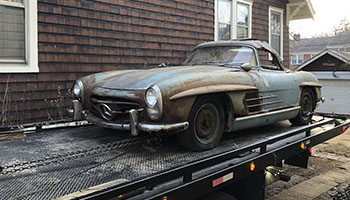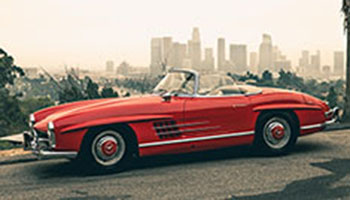 We're Always Looking To Buy: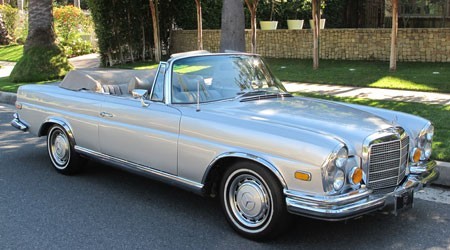 WE PAY TOP DOLLAR FOR MANY TYPES OF OLD CARS, RESTORED, PROJECTS & EXOTICS!
Or fill out our simple form, and we'll reply ASAP. We'll go over everything you need to know to sell your car from the convenience of your home.
Send us an email or a text message with some of your car best photos. That's often all we need to make an offer.
We send payment immediately! Our staff will work with you to pick up the vehicle, and get you paid fast! It's that simple.
My staff and I are serious classic car buyers and we're always looking to buy! If you have a vehicle that you feel might be of interest, Call 877-912-0007, or contact us via our online form. We Pay Top Dollar for many vehicles: NEW, OLD, RESTORED, RESTORATION PROJECTS & EXOTIC cars. Our expert appraisal, serious purchasing efforts, and white-glove service are here and ready to help get you the best deal, TODAY!
"I offer the best prices, fastest payment and hassle-free pick-up in the classic car market."
– Alex Manos
Don't just take our word for it!
Tim Z.
1968 Mercedes-Benz 250SL Pagoda
05-4-2023
La Mesa, CA
"The whole process of selling my car to Alex was very easy. I got paid before the car was picked up. Very professional transaction."
John F.
1966 Mercedes-Benz 230SL
05-4-2023
Moses Lake, WA
"Very responsive. Some shipping arrangements were not as simple as I had hoped. Payment was fair and fast."
Bob D.
2010 Maybach 57 S Zeppelin
04-9-2023
Fort Washington, PA
"We sold a 2010 Maybach to Alex and the whole process was flawless. He offered a very competitive price, wired the agreed upon funds immediately and then his team coordinated the transfer of title and pick-up of the vehicle in a painless and professional manner! I had a great experience and would not hesitate to do business with Alex again in the future."
Ronald P.
1960 Mercedes-Benz 190SL
04-7-2023
Belvidere, NJ
"Good morning Alex, thank you giving me a chance to offer you and your staff my thoughts on our recent transaction of a 1960 190SL. Found your contact info in Hemmings, after initial contact and photos I accepted your offer . In the following week we did some clerical work required thru your exceptionally qualified staff and the car was picked up by a professional mover. Most importantly payment was prompt and secure. Trust we will do business again. Thank you!"
Fred W.
1952 Mercedes-Benz 300B Adenauer
03-19-2023
Stillwater, OK
"Transaction was smooth. Alex was straight up with me. Delivery was taken care of quick and on time. Will be doing more business in future."
Robert H.
1971 Mercedes-Benz 280SE 3.5 Sunroof Coupe
02-28-2023
Blaine, WA
"Alex has a well structured organization to follow-up on the title, sale, payment and transport of my vehicle. Truly impressive and efficient."
Craig M.
1965 Mercedes-Benz 220SEB Cabriolet
02-25-2023
Scottsdale, AZ
"I had spoken to Alex Manos years ago regarding my 66 220SE Convertible, originally sold to a Hollywood celebrity, but at that time decided not to part with it. Now, after 45 years of ownership, Beverly Hills Car Club was the first company I called. Abraham Castellanos and the staff were easy to deal with, courteous, competent and thorough.. from arranging for documents signatures and prompt payment to scheduling pick-up. They made parting with my baby easy and pleasurable. I would highly recommend them to anyone with a truly collectible automobile to sell."
Douglas K.
1957 Mercedes-Benz 190SL
01-23-2023
Brighton, CO
"I was very pleased with the whole process, very professional."

Classic Mercedes Buyer
We want to Buy Classic Mercedes – in any condition! If you have a old Mercedes for Sale and are looking to know what your car's worth, we can guide you finding its value. Let's sell your Mercedes today! Friends or family who own an old or classic Mercedes, please contact Alex Manos! We purchase classic Mercedes regardless of condition – parked inside a garage, out in a barn, we buy! We want to make the Selling Vintage Mercedes process simple and easy. Our team is always on the hunt to buy Mercedes project cars, barn finds or completely restored cars. We have over 10+ years experience in the classic car industry with a sterling nationwide reputation. We buy classic cars from any USA location, and are just a phone call away. We Buy Antique Mercedes in any condition from mint condition to project cars, needing restoration, barn finds….
Whether it's fully-restored, or a little banged up, were interested in buying! Have a classic Mercedes in storage? How about a fully-restored Classic Mercedes? Interested? Give us a call today! Not only do we offer top-dollar pricing, but we will gladly pay the finder's fee, making the selling process easy and fast. Happen to know somebody with a Mercedes that they are looking to sell? Point them in the direction of Alex Manos – from Los Angeles to New York and everywhere in between – he's your leading Mercedes buyer!
We're Always Looking to Buy: