Selling a Classic Mercedes-Benz?
Alex Manos
Serious Buyer
Let's Talk!
TOP DOLLAR, NO-HASSLE, NATIONWIDE!
Got a Classic Mercedes-Benz? Looking to Sell? I Buy Them! My name is Alex Manos, I'm a serious classic car buyer and you can Sell Your Mercedes Here for Top Dollar! Got a 190SL, 230SL, 250SL, 280SL, 300SL, or other classic automobile? Whether your vehicle is in mint condition, or in a barn 30 years, regardless-of-condition call 877-912-0007, or contact via our website. Let's Talk Today!
We're Always Looking To Buy: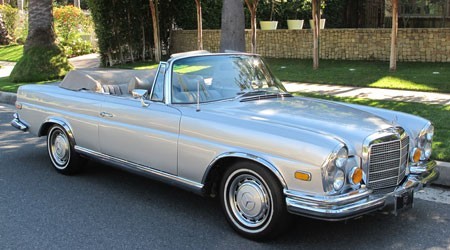 WE PAY TOP DOLLAR FOR MANY TYPES OF OLD CARS, RESTORED, PROJECTS & EXOTICS!
Or fill out our simple form, and we'll reply ASAP. We'll go over everything you need to know to sell your car from the convenience of your home.
Send us an email or a text message with some of your car best photos. That's often all we need to make an offer.
We send payment immediately! Our staff will work with you to pick up the vehicle, and get you paid fast! It's that simple.
My staff and I are serious classic car buyers and we're always looking to buy! If you have a vehicle that you feel might be of interest, Call 877-912-0007, or contact us via our online form. We Pay Top Dollar for many vehicles: NEW, OLD, RESTORED, RESTORATION PROJECTS & EXOTIC cars. Our expert appraisal, serious purchasing efforts, and white-glove service are here and ready to help get you the best deal, TODAY!
"I offer the best prices, fastest payment and hassle-free pick-up in the classic car market."
– Alex Manos
Don't just take our word for it!
Douglas K.
1957 Mercedes-Benz 190SL
01-23-2023
Brighton, CO
"I was very pleased with the whole process, very professional."
Thomas L.
1969 Mercedes-Benz 280SL
01-17-2023
Port Richey, FL
"The transaction got a little involved trying to get the car title but Alex was patient and understanding while I dealt with the county. Once I obtained the title the certified check came within two days and three days after that the transportation company picked up the car. The entire deal went as Alex explained."
Philip S.
1979 Mercedes-Benz 450SEL 6.9
01-12-2023
Pittsfield, MA
"Dealing with the Alex Manos group was a pleasure. Everyone I dealt with was professional, upbeat and positive. There was no dilly, dally, only a quick, efficient transaction took place. If you are into classic cars, there should be only one place to do business with- the staff at Alex Manos."
Rusty G.
1995 Mercedes-Benz E320 Cabriolet
01-8-2023
Liberty, MO
"We had good experiences with all the staff, but Valerie Van Dam the most helpful person, also Alejandro."
Gregory B.
1951 Mercedes-Benz 170DA OTP "Police Special
01-4-2023
Thousand Oaks, CA
"Just want to say it was a pleasure doing business with Alex, He is gentleman and very fair person, He made sure that I was very happy with the sale and I sure appreciate that, and will call him next time I want to buy or sale any of my cars."
Fernando F.
1993 Mercedes-Benz 300CE Cabriolet
11-28-2022
San Juan, TX
"Was a great and smooth transaction and also a reasonable offer."
Bill A.
1969 Mercedes-Benz 280SL
11-11-2022
Kansas City, MO
"Very responsive and fair process."
Leila D.
1974 Mercedes-Benz 450SL Roadster
11-2-2022
Puyallup, WA
"I sold my 1974 Mercedes 450SL Roadster to Alex Manos and would recommend without reservation. Through AlexManos.com, I made contact with his team and was offered a fair price by Alex. Upon acceptance, they handled the transaction in a professional manner, smooth and effortlessly. I worked with Tina, Valarie, Salina and Camille who clearly were knowledgeable about the classic cars and had processes in place. They had great communication from initial contact to the pick up of my car. Their great customer service is hard to come by & much appreciated!"

Classic Mercedes Buyer
We want to Buy Classic Mercedes – in any condition! If you have a old Mercedes for Sale and are looking to know what your car's worth, we can guide you finding its value. Let's sell your Mercedes today! Friends or family who own an old or classic Mercedes, please contact Alex Manos! We purchase classic Mercedes regardless of condition – parked inside a garage, out in a barn, we buy! We want to make the Selling Vintage Mercedes process simple and easy. Our team is always on the hunt to buy Mercedes project cars, barn finds or completely restored cars. We have over 10+ years experience in the classic car industry with a sterling nationwide reputation. We buy classic cars from any USA location, and are just a phone call away. We Buy Antique Mercedes in any condition from mint condition to project cars, needing restoration, barn finds….
Whether it's fully-restored, or a little banged up, were interested in buying! Have a classic Mercedes in storage? How about a fully-restored Classic Mercedes? Interested? Give us a call today! Not only do we offer top-dollar pricing, but we will gladly pay the finder's fee, making the selling process easy and fast. Happen to know somebody with a Mercedes that they are looking to sell? Point them in the direction of Alex Manos – from Los Angeles to New York and everywhere in between – he's your leading Mercedes buyer!
We're Always Looking to Buy: